I recently used Funded By Me to help raise some money for a new build server for Emacs for Mac OS X . com. I set it up and then decided to start publicizing it on a Friday and by the end of the following Monday all the money had been raised! I was blown away by people's generosity—I hadn't people to donate so much so quickly. In fact, I even got Lena, my awesome contact at Funded By Me, to lower the minimum donation amount to $5 because I didn't expect anyone to actually donate more than that! I had set the campaign to run for 30 days—further evidence of my underestimation of the Free Software users out there. It made me worry that I'd have to sit around for the better part of a month before being able to get at the money but it turns out Funded By Me let me take an early payment since I had hit my required minimum. So on Friday I took a trip to the Apple store and bought a Mac Mini. Here's a picture of me posing dorkily with it: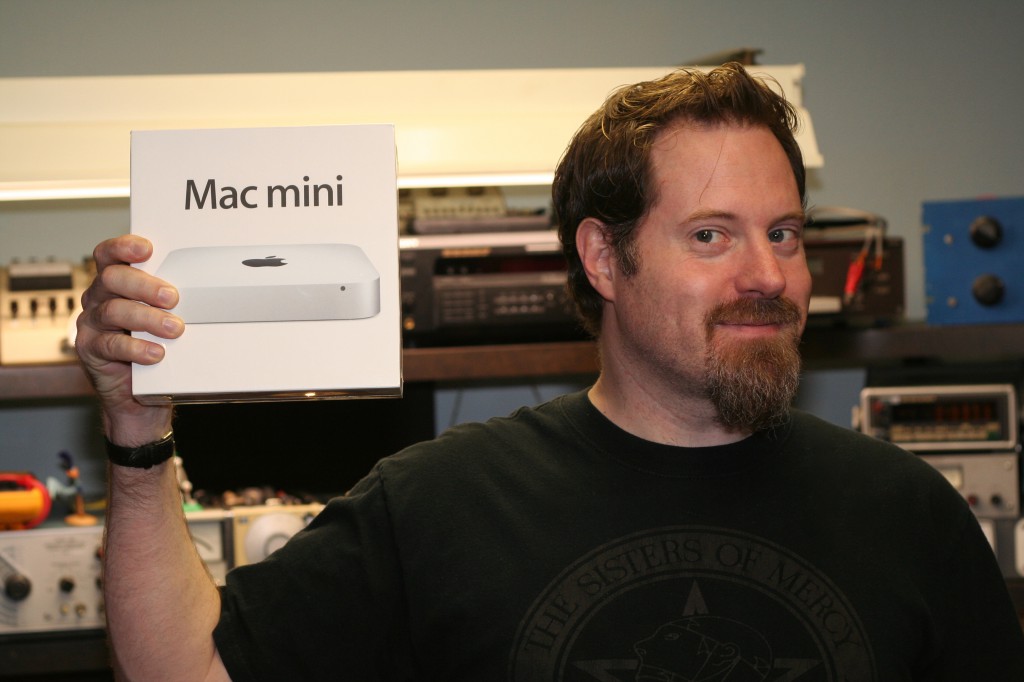 I thought about taking a picture in front of the Apple Store itself but got embarrassed at the cheesiness of it and chickened out.
The next part was tricky: I had to get Snow Leopard installed on it. It turns out that they revved the Mac Mini back in July, just after Lion was released. Luckily I found out from this article that Snow Leopard runs just fine, but can be a little tricky to install. Luckily I had all the right pieces. Here's a look at the setup involved: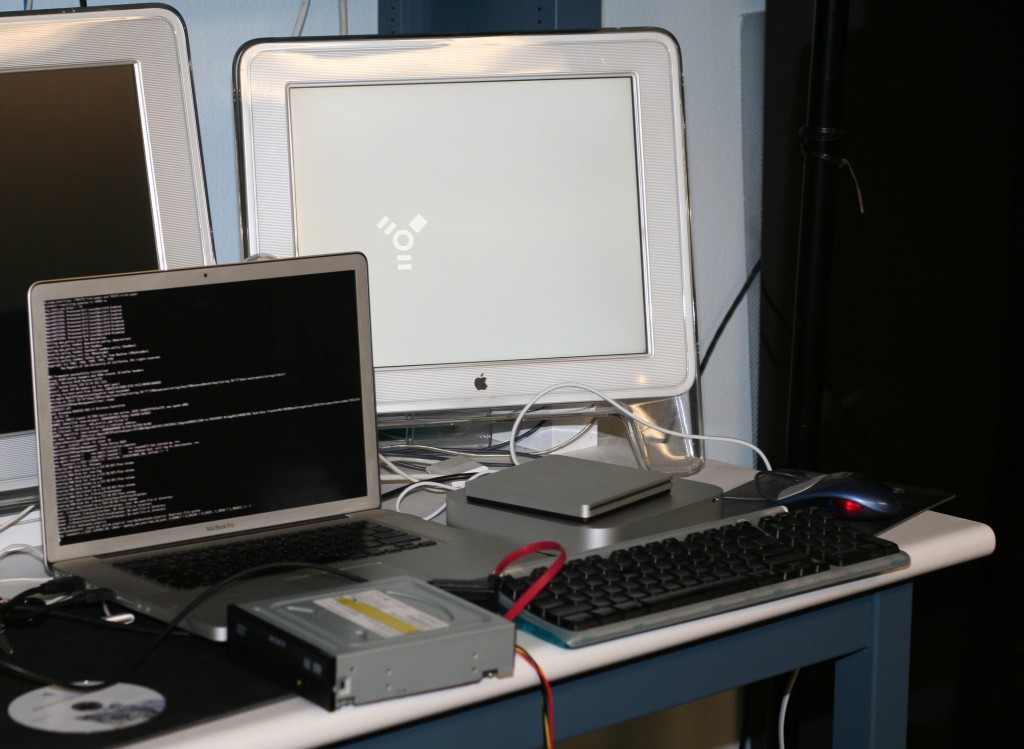 The Mac Mini is in FireWire target mode (boot up holding the "t" key down"). It's connected to the FireWire port of my MacBook (seen here booting off the CD—yeah, I "nvram boot-args=-v" because I'm hard core!). I replaced the optical drive in my MacBook with an SSD so I had to hook up an external drive to boot off of. The external Apple drive I borrowed wouldn't work with my MacBook (my brother claims it needs some sort of special non-standard high voltage USB ports) so I had to use the big clunky one with a SATA to USB converter.
Crazily enough, all that worked! I used my MacBook's install CDs to put Snow Leopard on the Mac Mini and then booted the MacBook up so that I could do a software update. After the software update was done, the Mac Mini booted up just fine under Snow Leopard and I was up and running.
The new build server is up and running!
On the builds page there are now 2 builds from the new machine. The 2011-11-05 nightly was build by hand as I tested the build script and got the list of >= $30 donors installed on the disk image (and also set up the donor web page I promised). The 2011-11-06 was the first build that was built unattended from cron. From here on out it should be smooth sailing.
Thanks to everyone!
I'm very pleased that all the future builds will be on this machine that the community paid for. Again I'll say thanks—I was blown away by the generosity of complete strangers. It makes me want to donate more of my own money and time to things I believe in.